News / 26.02.19
Generator Kicks Off Junior Seasiders' Sponsorship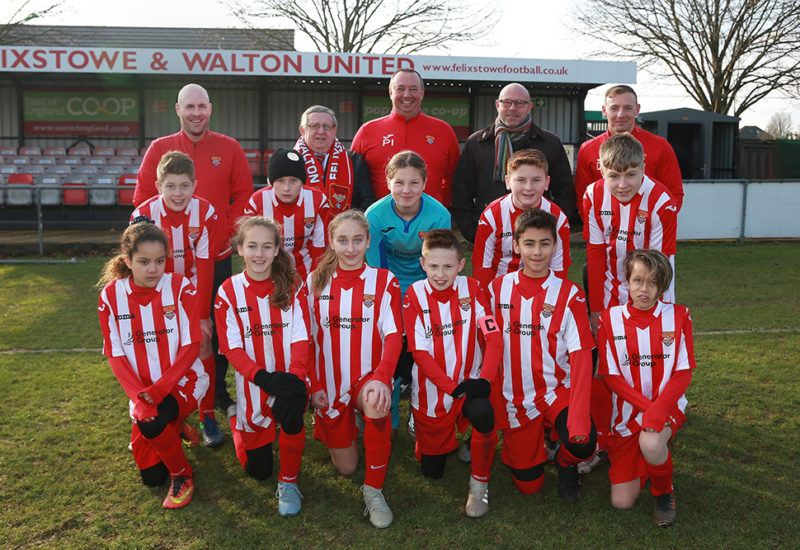 "The junior teams at Felixstowe and Walton United Football Club offer a great outlet for youngsters looking to get active. We believe it's important to support the communities where we operate at grass roots level and here in Felixstowe, the football club is such a hub for families and young people in the area. We are proud to be sponsors of the smart new kit for the U13s white team and wish them all the best for the rest of the season and beyond."
Felixstowe & Walton United Football Club has announced a new sponsor for its under 13s white team. Generator Group, the property company behind the new Laureate Fields development in Old Felixstowe, is sponsoring the junior team's kit in what the club hopes will be a continuing partnership.
The club's home ground, The Goldstar in Dellwood Avenue, is just over one mile away from Generator Group's new development. Laureate Fields, offering coastal views and adjacent to An Area of Outstanding Natural Beauty, will comprise 197 new homes including one, two, three and four-bedroom houses as well as apartments and affordable homes, which will launch for sale later this year.
The football club, known as the Seasiders, has over 250 boys and girls registered across its junior teams, mostly playing in the South Suffolk Youth League. The under 13s team revealed their kit bearing Generator Group's new logo, which was recently redesigned as part of the Generator's rebrand.
The main club has recently secured promotion to join the Isthmian Bostik North Division, the first time in its history that a team has progressed so far in the English national league system. The next match for the U13's white team will be held at the Langley Avenue ground in Felixstowe on Saturday 9th February.
Coach David White adds: "Our team welcomes new faces this year as well as those who have been playing with us since the age of four. We are working extremely hard in training and can see the benefits of this on the pitch as we grow and get stronger. We have seen some great wins since December as we become more cohesive as a side and I feel confident that this will continue for the remainder of the season.  I am very proud of each and every one of the team for their strength and determination.  Our thanks go to Generator for the new rain jackets and coach jackets too, their support is greatly appreciated."
Club Chairman, Andy Wilding highlights the importance sponsorship has for the club: "As a successful Football Club playing in The Bostik North Isthmian League, it's very important to Felixstowe & Walton United FC that we develop our local junior sides for both girls and boys from under 6s to under 15s. We run over twenty teams at junior level and this can, of course, be expensive. The club is therefore delighted to announce a sponsorship deal with Generator Group that has provided us with an extensive range of new kit. It is only with support from businesses that the club can run so many junior sides."
Construction work at Generator's Laureate Fields development is now underway with a marketing suite set to open early Summer, 2019. For further information and to register your interest visit www.laureatefields.co.uk or call 01473 234800.