News / 25.07.18
Ancient Coins Found at Felixstowe's Laureate Fields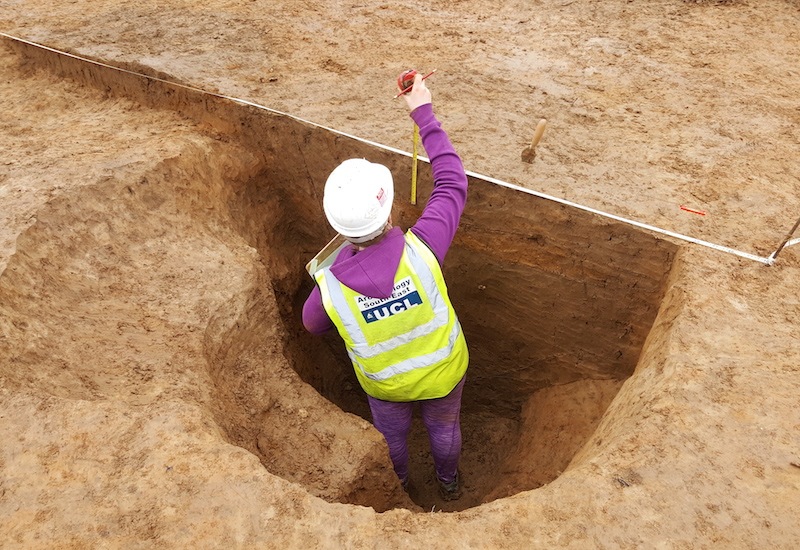 "Similar evidence has been found in the vicinity of Walton Hall and elsewhere around Felixstowe and it appears that the area was extensively utilised during the early 1stmillennium BC."
Ancient coins, flint tools and evidence of ditched field-systems spanning the Early Neo-lithic, Late Bronze Age and the Anglo-Saxon periods have been unearthed at our site in Old Felixstowe. A team of specialists from Archaeology South East (ASE), part of the Centre for Applied Archaeology at University College London, have been undertaking excavations on land at Ferry Road, Felixstowe over the last three months, on our behalf. The work has been taking place in advance of the residential development of 197 new homes at our 11-acre Suffolk site.
The fieldwork was monitored by the Suffolk County Council Archaeological Service in their capacity as archaeological advisors to the Local Planning Authority. On site, archaeologists discovered a selection of key evidence of early human occupation; including worked flint tools and occasional sherds of pottery dating to the Early Neolithic period (4,000 to 3,300 BC), and evidence of Late Bronze Age (1,200 to 700 BC) agriculture in the form of ditched field-systems.
Archaeologist Paulo Clemente from ASE said: "Evidence of these Bronze Age farmers is also attested by the many ploughed out burial mounds known from aerial photography to exist around Felixstowe.
"The most surprising discovery here, given the nearby presence of the now destroyed Walton Castle (originally a Roman fort), is that relatively few finds of Roman date were recovered during the excavations. However, we did find remains of clusters of pits and aligned postholes, (a cut feature used to hold a surface timber or stone), which may relate to structures built alongside Ferry Road from early medieval or Anglo-Saxon period (AD 410 to 1066), including a hoard of eight silver coins of Aethelred II (known as Aethelred the Unready). These date back to the period between AD 997-1006."
Archaeologists now believe that there may have been a port at Kings Fleet on the nearby River Deben, that is 'likely' to have been the landing place of the 7thCentury Saint Felix, who would go on to establish a cathedral and school at Dommocor Dummoc-ceastre. Further remains at the site included later medieval pits and a field-system, as well as evidence of quarrying. By the modern period, the area played a role in the coastal defence of Britain during WWII, as is evidenced by the presence of a concrete pillbox of the 'Suffolk Square' type in the east of the site.
Development Director, Ed Orr, comments: "Old Felixstowe is known for its historic artefacts, so it was important for us to procure an archaeological dig in order to see what historic items could be recovered at our site, before we start construction. We are delighted that this dig proved fruitful and the eight coins in particular are a great find for the history of the town. The items will be preserved and displayed for the public to view in the marketing suite for Laureate Fields."
We recently closed a £12.5 million revolving debt package with funders Wellesley Group to develop the site out. It will deliver a mix of one, two, three and four-bedroom houses, as well as apartments, to suit a range of residents. In total, there will be 131 properties for sale on the open market, and 66 affordable homes. We will also deliver the associated roads, infrastructure, car parking, landscaping and public open spaces.
The site borders an Area of Outstanding Natural Beauty; therefore, the designs sensitively complement the natural surroundings. A generous area of public open space at the centre of the development provides a focal point and will incorporate a children's play area. This links with the site's entrance via a tree-lined boulevard, while extensive landscaping, including a buffer of trees to the site boundary, helps it to blend with the surrounding landscape.